Tea and Coffee Percolator Perkomax
Description of Tea and Coffee Percolator Perkomax
With the Petromax Perkomax coffee and tea are prepared aromatically and without much effort. The unique percolator principle gives coffee and tea a delicious aroma.
Excellent on all heat sources
The Perkomax is suitable for indoors and outdoors: it works just as well on the grill grate and in the hot embers of the campfire as on the hotplate, the ceramic hob or the induction stove. With one filling of the percolator up to nine cups of tea or coffee can be prepared. The preparation time varies depending on the temperature of the heat source and the amount of water filled in.
Incomparable taste thanks to the percolator principle
When heated, the water rises through a small tube thanks to the ingenious percolator principle. At the top of the tube is a round filter for the coffee powder. The rising water, which comes out of the top of the tube, drips onto the coffee powder and then flows back down into the pot as if through a sieve. There it mixes with the water and rises again. The longer the water circulates in the percomax, the more intense the taste of the coffee or tea becomes. This unique principle releases the finest aromas from tea and coffee. So you can prepare an aromatic, full-bodied coffee at home, while camping or other outdoor activities without many accessories.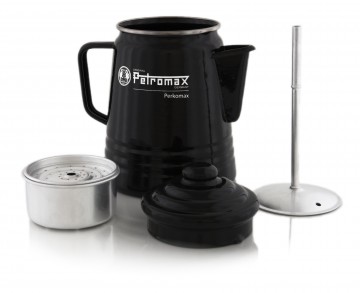 Technical Data
Color: black
Material: steel, enamelled
W x H x D (in cm): 14.5 x 20.5 x 18.5
W x H x D with packaging (in cm): x x
Weight (in g): 870
Weight with packaging (in g): 1000
Scope of Delivery
1 x Percolator "Perkomax" black
1 x Operating instructions (German/English/French)
Petromax GmbH, Sudenburger Wuhne 61, D-39116 Magdeburg