Description of 72 x Fuel Paste of 200g (without Cooking attachments)
200g safety fuel paste from ethanol, as replacement fuel paste for the emergency stove.
Safe: The consistency of the Hot-Light fuel paste remains consistent during
same for the entire burning time: no danger of explosion!
Simple and clean: handling is very easy.
Hot-Light burns without smoke, soot, odour or noise.
Non-toxic: fuel paste does not contain dangerous methanol or similar.
(fuel is ethanol).
Inexpensive: The burning time of the 200 g Tin is about 3 hours.
Ecological: Recyclable packaging.
Long shelf life: Sealed original packaging has a long shelf life.
Gross weight: 270g (thereof fuel paste: 200g)
Diameter: 85mm
Height: 53mm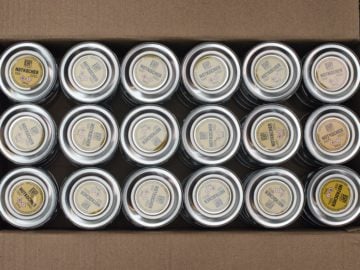 Useful Tips for Application
Safety fuel paste:
is produced on a high quality basis
when used professionally – safe – clean – strong
is recommended:
If the can contents do not burn off completely:
Close the Tin completely after use, otherwise the burning substance will evaporate and the remaining amount will be difficult to ignite.
If the can is used repeatedly, stir the paste through and mix in the epidermis.
Observance of these instructions always guarantees the functionality of this product.
SicherSatt AG, Neuwiesstrasse 6, CH-8636 Wald
SicherSatt AG,  Robert-Bosch-Strasse 19, D-78239 Rielasingen