Storm Can Complete Set
€ 159,00
Description of Storm Can Complete Set
Benefit package:
Storm can complete set contains the following:
Storm can BaseCamp (chrome steel version)
Cooking set
Pot holder
Hobo Cooker Attachment
2 Chrome steel plates
2 Chrome steel cups (350ml + 500ml)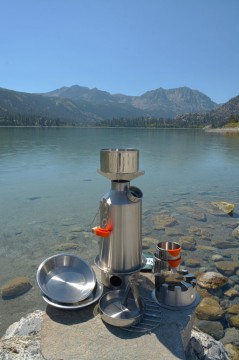 This unique storm can has been produced for over 100 years. Quite certainly the most environmentally friendly emergency cooker/water heater that can be operated with natural fuels, e.g. wood cuttings, twigs, pine cones, dry grass, peat, etc.
Boiling time for 1 liter of water: 2 – 3 minutes.
Even in extreme weather conditions the storm can works without any problems.
Material: Chrome steel
Height: 34 cm
Diameter: 18.7 cm
Weight: 1.18 kg
Content: 1.5 liters
Scope of delivery: storm can, protective cover, pot holder, matching cooking set, hobo stove attachment, 2 chrome steel plates, 2 chrome steel cups (350ml+500ml)
Kelly Kettle Company, Newtown Cloghans, Ballina, Co. Mayo, Ireland