Description of Petromax Atago
The extremely robust and outdoor-suitable Petromax Atago is an absolute all-rounder and can be used as a Griddle, Oven, Stove or Fire Bowl. Thanks to the infinitely variable air supply and temperature control, cooking and grilling outdoors succeeds in a new quality!
Ready for Use With Just One Movement
Thanks to the unique folding mechanism, the Petromax Atago is ready for use in just one step. And it can be folded up again just as quickly. With a height of only 15 cm when folded, it can be stowed away excellently and in a space-saving manner.
Effective Heating With the "Fireplace Effect"
The highly sophisticated design of the Atago allows the chimney effect to be used to its fullest. The infinitely variable air supply allows the temperature to be regulated at will, with a maximum opening ensuring exceptionally fast heating. In addition, the round cut-outs in the material ensure optimal ventilation.
Unique Two-Cylinder Construction
Due to its two-cylinder construction, the Petromax Atago is not only a special eye-catcher, but also stores the heat inside so effectively that the outer cylinder hardly heats up at all, even during longer operation.
Numerous Possibilities
The Petromax Atago is made of a stainless chrome-steel alloy and is produced in Germany. Charcoal, charcoal briquettes and firewood are suitable for lighting. The Atago offers the following three modes of operation:
... as grill
The Petromax Atago can be used in the classic way as a grill, fired by charcoal or briquettes. A suitable grill grid is included in the scope of delivery.
… as oven or stove
The Petromax Atago can also be used with the Dutch Oven or Wok. To do this, simply insert the cast iron Dutch Oven (e.g. the Petromax ft3, ft6 or ft9) placed on the glowing briquettes in the Petromax Atago. The Atago surrounds the Dutch Oven and in combination with the cast-iron fire pot ensures an optimal heat yield. The wok, however, is placed directly on top of the round opening of the Petromax Atago.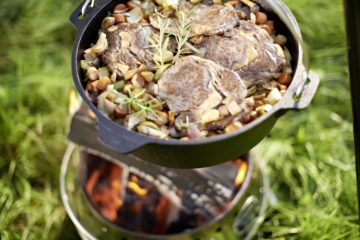 … as a fire bowl
After the Petromax Atago has been used to prepare the food, a cosy campfire for the evening can now be lit directly in the Atago. Due to the round shape, firewood and brushwood can easily be piled up in a pyramid shape.
Technical Data
Material: stainless steel
Height (folded): 15 cm
Height (folded out): 28 cm
Fuel: charcoal, briquettes, wood
W x H x D (in cm): 40 x 14 x 40
W x H x D with packaging (in cm): 41 x 17.5 x 41
Weight (in g): 6100
Weight with packaging (in g): 7000
Scope of Delivery
1 x Petromax Atago
1 x Operating instructions (German/English/French)
Optional Accessories: Transport and storage bag for Atago
Petromax GmbH, Sudenburger Wuhne 61, D-39116 Magdeburg