Description
Here you can find everything that makes a good chili: Red beans and beef and for the certain spice in the taste onions. A good chili revives the spirits in every situation, especially when the weather is not so good for outdoor adventures. Trek'n Eat's Chili con Carne is quickly prepared and should be served as hot as possible. It helps against external and internal cold, fills empty stomachs and is considered a secret weapon against cold feet. So when things get really uncomfortable, Trek'n Eat's Chili con Carne should be taken out of your backpack like an ace out of your sleeve. Of course, it also helps in warmer climates to boost your motivation for the adventures ahead.
Filling Weight: 180g. After Water Addition: 630g
Preparation: Pour boiling water up to the filling line (450ml) directly into the bag, stir carefully, close bag and leave to stand for 10 minutes.
Bag was packed under protective atmosphere.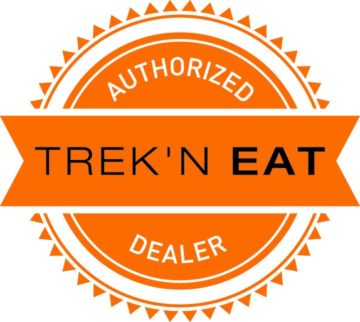 Nutritional values
Nutritional values per 100g:
| | |
| --- | --- |
| Energy | 1486kJ / 355kcal |
| Fat | 12.0g |
| Thereof saturated fatty acids | 5.8g |
| Carbohydrates | 36.0g |
| thereof sugar | 7.0g |
| Protein | 25.0g |
| Salt | 3.2g |
| Dietary Fibres | 13.0g |
Ingredients
42% Kidney beans, 12% beef, tomatoes, fried onions (76% onions, vegetable fat (rapeseed oil, palm oil), wheat flour, table salt), maltodextrin, textured soy protein, seasoning, palm fat, paprika, starch, lactose, sugar, yeast extract, flavouring, table salt, anti-caking agent: silicic acid.
Meat weight dry 21.6g (corresponds to approx. 86g fresh meat)
Allergens
Gluten, lactose, milk, soy
Manufacturer
Katadyn Germany GmbH, Hessenring 23, D-64546 Mörfelden-Walldorf